Eleven submitted to Experiments by U.S. Health Authorities
All Develop Dread Disease
Experiments Conducted by Dr. Goldberger Proved Unbalanced Diet Cause of Disease
The Intelligencer (Anderson, South Carolina) November 2, 1915

Jackson, Miss. Nov 1.
Eleven convicts at the Rankin, Mississippi, state prison farm, seven of them serving life sentences, were granted full pardons today by Governor Brewer, as a reward for submitting to tests by the United States Public Health Service authorities to determine the cause of pellagra. The twelfth member of the "Pellagra Squad" was pardoned a few months ago after a physical breakdown.
The pardons came after the Mississippi state board of health announced that the tests on the convicts had demonstrated that pellagra is produced  by unbalanced ration, and that Dr. Joseph Goldberger, who conducted the tests, was convinced pellagra could be cured by proper food.
The experiments began last February, the twelve prisoners not being allowed to eat foods containing fresh milk, fresh lean meat, eggs, peas and beans. Lack of these elements in the food of poor people is believed to cause pellagra. It was announced that six of the convicts have pellagra in pronounced form. Two others show symptoms.
The convicts were told they could leave prison immediately, but were urged to remain a short time and be nursed back to health. Submission to the tests was voluntary on the promise of pardons but the authorities kept the tests secret fearing relatives might institute legal proceedings to prevent them.
Six of the "pellagra squad" were serving life sentences for murder, one life sentence for criminal assault, one had ten more years to serve for manslaughter and the others had shorter sentences for lesser crimes.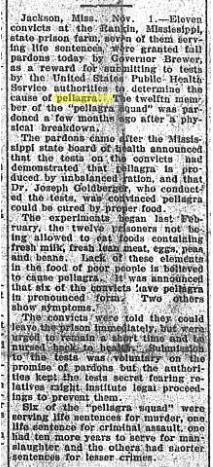 References:
Harkness JM. Prisoners and pellagra. Public Health Rep. 1996 Sep-Oct;111(5):463-7. (full text)
Joseph Goldberger and G. A. Wheeler. Experimental Pellagra in the Human Subject Brought about by a Restricted Diet.
Public Health Reports Vol. 30, No. 46 (Nov. 12, 1915), pp. 3336-3339 (full text)
JOSEPH GOLDBERGER, M.D.; G. A. WHEELER, M.D. EXPERIMENTAL PELLAGRA IN WHITE MALE CONVICTS. Arch Intern Med (Chic). 1920;25(5):451-471. (full text)